Do you need help with your relocation to / or in the Netherlands?
Click on your situation below and answer the questions!
Are you in need of a Relocation Guide for your whole relocation process?
We have created a comprehensive relocation book which guides you through your whole relocation process step by step!
Click on the button below.
Are you in need of arranging the utilities, insurances, tv/internet in your new house?
We work with a co-operation who can give you the best advice and service to arrange everything smoothley. Even if you are still abroad, everything can be set up by phone.
Click on the button below.
We are extremely happy with Expats on the move and can not recommend them enough!
Very informative, extremely helpful, always willing to go that extra mile to ensure you as a client is satisfied. 
Sanne Gortzak
Relocation Expert | Owner Expats on the Move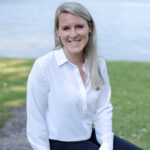 After I had worked for more than 10 years in real estate I experienced how expats struggled with their entire relocation to the Netherlands. As a rental / sales broker, I felt that I was unable to provide all the information and guidance expats need! This had to be changed and I decided to start my own business. I think it's important to guide each expat in a personal way through the entire relocation process. Also so important to give them lots of information, because the Netherlands isn't their home country and everything is different then they used to know.
Do you want more information on what we do or do you want to know more about me, check About us or contact us!